GROUP WORKOUT, GYM & BALL SPORTS
GYM
Olympen traningscenter offers a 800 sqm all-new gym. Our establishment is two floors and the gym is located on the upper one. It contains a large assortment of free weights, more than 20 weight-training machines, machines for exercising cardio as well as a space for stretch.
GROUPTRAINING
At Olympen träningscenter we work towards providing group workout classes for all regardless of your level of experience. Whether you are a beginner or experienced fitness person does not matter we have classes for all.
Among our wide assortment of classes you can choose between cardio and weight-training classes and you decide whether you would like to exercise during the morning hours, lunch or in the evening.
Our aim is that you should find a fitness routine suitable for you! So by all means, come join classes where you will be exercising together with well-educated instructors in a motivating group and environment.
Make sure you arrive before the class starts and inform your instructor if you are new and need help with the equipment, adjustments and so forth.
We are more than happy to help you!
Questions about the group workout acitivities, contact: grupp@vugi.nu
Please contact olympen@vugi.nu for more information about booking, trainingcard and membership.
Welcome!
BALL SPORTS
At Olympen träningscenter you can exercise several different ball sports. At the recreational level you can play floorball, volleyball, basketball or soccer.
If you want more information about the activity or want to become leaders, contact us at: bollsport@vugi.nu, the facebook group "Vugi Ball Sports".
Please contact olympen@vugi.nu for more information about booking, trainingcard and membership.
Badminton Courses are rented individually each time. Booking is made thorugh internet and payment is made in the reception. One person is responsible for the booking and needs to be a member of Olympen and VUGI.
Welcome!
ADVENTURE
We offer various sporting activities throughout the year. Among other things, we go on a ski trip, canoeing, climbing, diving, etc.
If you want more information about the activity contact us at: aventyr@vugi.nu.
Please contact olympen@vugi.nu for more information about booking and membership.
Welcome!
A Try out week for free!!
Come down to Olympen trainingscenter and start your try out week when ever you want. Then you can try all our activities, grouptraining, gym and ballsport for a whole week before you decide if you want to be a member. We are so looking forward to see you. Don´t hesitate just come down!
As a student you also get 150 kr discount on a yearly card and 50 kr more if you are a member at Linnékåren, so 200 kr. Not just this, you have 100 kr discount on the memberfee so you only pay 100 kr instead of 200 kr. 
Hope to see you!
GROUPTRAINING SCHEDULE
DESCRIPTION GROUP WORKOUT
Class Descriptions Please note that some of these sessions aren't available on the ordinary schedule. But they may appear in the varying classes "rullande pass".
ABS'N'ASS
In this class we focus on abs and ass. Torso exercises collaberate with ass/legs-exercises. We use rubberbands, weights, boards and own body weight in coreographed songs. In the end we stretch!
ABS'N'ASS INTERVALL
Abs and ass-exercises interspers with tabata-intervals (20-10). Pulse poundering exercises like burpees are included in every interval together with either torso exercises or ass/leg-exercises. We use rubberbands, weights and your own body weight. In the end we stretch.
ABS ´N ASS ´N SPIN
Abs n´ ass n´Spin is a 70 min combination class. We start in the grouptraining room with focus stomache (core) for 30 min. We use our own body weight, weights, pilates balls and rubberbands. After 30 min we move over the spin room for another 30 min of workout. The main focus here will be slopes where we work butt and legs. Long and short intervals with lot of resistance will be mixed so we really get the pulse up.
AFRO
A dance workout that improve both your condition and enhance your mobility in most of all your back and pelvis. The workout is easy to grasp as both skilled and beginner. The movements are large, heavy, simple and natural. The focus is on style and personal feeling more than to be perfectly correct.
BOX
In this workout we focus on different punches and kicks. At the same time we workout you will improve your strength, condition, speed and balance. Box is adjusted to everyone from the beginner to the skilled. Come and try out a sweaty and fun workout. Gloves and mitz are provided for you but you can bring your own if you want to.
BOOTCAMP
Circle training where we work our way through 4 blocks, Bootcamp exists of totally 20 different stations! Together we practice strength, endurance and condition in intervals. It is a tough but very fun program where the training exists of many different implements but also body weight exercises. Bootcamp is a fun and energetic program where the music helps the participants to get exited to perform their very best after their ability.
BOOTY
A class with the main focus on the butt. You also get in contact with the front, back- and inside of your thighs and hips. In choreographed songs we use rubberbands, weights, own body weight and barbell to access as deep as possible.

BOOTY N´ SPIN
Booty´n Spin is a 70 min combination class. We will here start in the grouptraning room with the main focus butt for 30 min. We will use rubberbands, wrist weight, own body weight and other weights. After 30 min we move over to the spin room for another 30 min workout with focus intervals and pulse.

CIRCLE TRAINING
A class there were we focus on strength for the whole body. We work each muscle group in diffrent stations. In the end we stretch!
CORE
A class with weightlifting for the core muscular, namely the torso. We practice much functional and therefore both mobility and balance are included in the workout, which strenghten the bodys natural corsett. Some implements like rubberbands, stepboard and free weights can occur.
CROSS MIX
Crossmix is ​​a strength and fitness workout, where we work in various stations high intensively. We use a lot of body weight and some other tools can occur. You can put this workout along your own ability, everyone can join!
DANCE FUSION
Dance fusion is full of emotion. You exercise fitness and coordination without really thinking about it. With the music as a power source and the instructor's guidning you are loose in a bunch of playful choreographies. Different expressions and dance styles: disco, funk, jazz, latino, street, musical and swing after one another. You do not need to have a dance experience.. It is your desire for motion and your expression that counts.
FUSION
Circle training where we work in stations. High intensity interval training with focus on strength and fitness. We use tools such as kettlebells, ropes, rubber bands and pilates balls. A sweaty class that everyone can participate in. And you will be challenged after your own ability.

FUNCTIONAL
Functional workout is a modern, effective and fun way to work out. The target is to improve your body's fundamental functions through increased stability, balance, strenght and mobility. We work out with your own body weight, weights and stick. The workout is divided in blocks with 8-12 repetitions per exercise. The class ends with mobility/stretch.
HIIT
High intensity interval training is a workout form where the idea is that you are really gonna press yourself to the limit. In high intensity intervals about 45 seconds we focus on different simple exercises which are effective and functional. There are four different forms:
STRENGTH – here we focus on strength in a high tempo with barbell as our main implement.
CORE – challenge yourself and try core in intervalform! We switch between abs/back and side!
PLYO – a really awesome workout that really makes it burn in your legs/ass. Plyo is elasticity and jumps which also gives you a really good condition training.
CARDIO – the most sweaty workout of them all! Come and roll with us, the pulse is suppose to be maxed!
MORNING CARDIO
Morning cardio exists of a short strenght block and a longer pulse poundering condition block. The workout is free from jumps but jogging occurs. Gymnastics are suppose to suit most people and the movements can be adjusted to every levels.
PILATES
Pilats is strength workout for you whole body with extra focus on core. The workout gives you a strong and flexibel body and also improve posture and coordination. Pilates is about stability and muscle extension, koncentration and breathing technique, endurance and relaxation. All exersices are in different steps, witch means that Pilates fits everyone.
POWERYOGA
Is a class described as a mixture of dynamic and powerful movements combined with meditative stretching. During the class your should try to keep the mind focused on your breathing, your body and your muscles. Agility and flexibility increases and you let go of stress and tension around the joints and muscles.
POWERSTEP
A coordinating and strengthening pass. We work song after song artenating between Step and Strength. The step is demanding because we make many explosive jumps on the board. In the strength section, tools like free weights, rubber bands, bar bars and body weight are used.
PUMP
A choreographed weightlifting program in a group. Song by song we work our way through all muscle groups in the body with the barbell as our main implement. The instructor sets his or her own thouch on the class but every pass has one thing in common; we focus on both over- and underbody strenght and the torso. Barbell is a pass for everyone – beginner as skilled. Here everyone can get a challenge!
PUMP UPPERBODY
A choreographed strength class. Song by song we work through all the muscles of the upper body and back and stomach with the barbell as our main tool. Free weights, dumbbells, rubber bands and own body weight may occur. Pump Upperbody is a strength class for everyone – beginners as well trained. Here everyone can get a challenge!

INDOOR RUNNING
This workout is for everyone regardless of level and the purpose is to improve their fitness. The training session lasts 30 minutes at the gym cardio department where the instructor guides you through  intervals on the treadmill. You choose tempo based on your own ability. The intervals consist of walking and jogging in different blocks. Indoor run is a race against yourself, you will never be crushed by anyone else.
SPIN
The workout is most about condition where we focus on the big muscular groups in the legs. During the program you will receive requests to increase or decrease your resistance on your bike. Also if you are suppose to sit or stand on your bike. We can guarantee a pulse pounding workout where only you set the limits. Every instructor puts their own thouch on the workout.
STEP
Step is a condition workout with moves that are performed on a board. In this workout you will focus on different easy step combinations that later becomes a choreography. You strengthen your body, practice coordination, improve your condition and enhance your combustion.
STRENGTH
An interval program where we work with functional exercises. Functional training means that we do exercises that are similar to what we do in our everyday life – sit down, stand up, run, lift, throw, climb, jump, push and drag – and therefore reach physical performance ability. We use our own body weight, weights and rubberbands and work in short intensive intervals so you will be able to push yourself to the limit and gain the best of your training.
TABATA
An intensive interval pass where we work both strength and fitness. We use tools such as boards, weights, rubber bands and bar bells as well as with your own body weight. The intervals are 20 seconds long with 10 seconds rest. A tabata consists of 8 rounds where two or four exercises are varied. On this class, everyone can be challenged. You and only you deside how hard you want to work.  The movements can be adjusted to every levels.
TRX
Rip trainer: a class with focus on strength. We use TRX-rip trainer as a tool. This is a band with rubber function that gives you the opportunity to put the level after your own capacity. Exercises for the entire body.
Suspension: A class with focus on strength. We use TRX suspension as a tool. This is a long band hanging in the ceiling with two handles. You adjust the difficulty by regulating the TRX band and then exercise after your own ability. Exercises for the entire body.
YOGA FLOW
A class with focus on the flow within your body and between different positions. We work with force, mobility, balance and inner reflection. In the class different alternatives are given and therefore it is a class for both beginners and skilled.
YOGA ASHTANGA
Ashtanga yoga is a physical dynamic yoga form with a fixed series of positions performed in harmony with breath to achieve focus in motion. Performed on yogamatta barefoot.
YOGA YIN
A soothing, meditative yoga where the positions are held between 3-5 min where we focus on your Yin parts, joints, ligaments and connective tissue. Welcome to a time where you are aloud to a moment to yourself.
ZUMBA ®
Zumba is first and foremost about having fun! It is a dance-fitness program where you will learn how to dance Salsa, Samba, Merengue, Reggaeton, Cumbia, Flamneco and Calypso to name some of them. With the music a dynamic, thrilling and effective workout program is produced. Every song has its own choreography outlined by simple dance moves. Together every song makes an interval training, namely a combination of quick and slow rhythms. This gives you a result of higher combustion and improved condition.
ZUMBA ® TONING
Zumba toning is like zumba but with lighter weights. There is no strength training but instead a toning for the muscles in combination with the Latin dance. We hold the weights in our hands while we dance.
BALL SPORTS SCHEDULE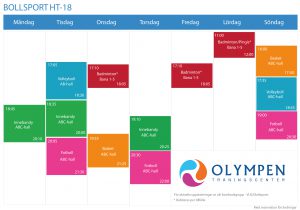 DESCRIPTIONS BALLSPORTS
Floorball
We play in small claims 3 to 3. All are welcome regardless of previous experience. Take your stick and shoes and came down to Olympen Training Center! A limited number of floorball sticks can be borrowed.
Basketball
We play at full level, or "half-plane" depending on how many people come to each session. All are welcome regardless of previous experience.
Football
We play at full level 5 on 5, where teams take turns to face each other. All are welcome regardless of previous experience. Take your shoes and came down to Mount Olympus fitness center.
Volleyball
We play at full level 5 on 5, where teams take turns to face each other. All are welcome regardless of previous experience. Take your shoes and came down to Mount Olympus fitness center.
MASSAGE
Mind & Body – Ali Johansson
Massage 30 min – 249 kr
Massage 50 min – 399 kr
alijohansson@outlook.com
076-2342793
PERSONAL TRAINER
Nicolas Valdebenito
Personal trainer under education
Prices
55min – 399 sek
5x55min – 1899 sek
10x55min – 3499 sek
Book here
Membership VUGI
Membership is mandatory for trainee members and paid to the Association Vugi once per fiscal year. A fiscal year is the period 1 July to 30 June.
Membership
200 kr
Membership Student (student certificate required)
100 kr
Short term
Spring term card 2022 is valid from January 15 to June 15. The prices are discounted during the semester. If you buy a training card you get 50% off on the ball sports. Badminton is only pay and play (not included).
From January 15th
From February 15th
From March 15th
From April 15th
Gym or Group
1145 kr
945 kr
735 kr
525 kr
Gym and Group
1495 kr
1195 kr
895 kr
595 kr
All ball sports
600 kr
300 kr
One ball sport
400 kr
200 kr
Full year
| An annual pass is valid from the date you sign your workouts short and a year ahead. | |
| --- | --- |
| Gym or Group | 2695 kr |
| Gym & Group | 3195 kr |
Direct debit
| | 12 months binding period | No binding period |
| --- | --- | --- |
| Gym or Group | 249 kr | 299 kr |
| Gym & Group | 269 kr | 349 kr |
Other training cards
| Monthly Gym or Group. | 299 kr |
| --- | --- |
| Monthly Gym and Group. | 349 kr |
| Clip card - 10 group trainings (valid 12 months) | 700 kr |
| One time training Gym / Group / Ball (no membership required) | 95 kr |
| Rent badminton / time (one membership required) | 95 kr |
| Chip deposit | 100 kr |
RULES
1, Always log in with your personal access control chip in the customer kiosk at the entrance to the gym or in the entrance to the J House. 2, Perform in a way that does not interfere with other members. 3, Customize your sound level. 4, A try out for the first time take place only during reception hours and will be booked at the reception. 5, Only clean training shoes in the room. Training clothes should be appropriate and consist of the shirt / tank top / T-shirt and pants / shorts. Shirtless is not allowed. 6, It is not permitted for persons under 18 to be in the room without the agreement with Olympus Training Center personal. 7, All exercisers members must follow our general provisions as well as the association's policy on alcohol, tobacco and doping. 8, Wipe away your sweat from the machinery and equipment with spray / wipes after use. Throw garbage and paper towels in the trash cans. Weights and other equipment should be added / hung back at the appropriate place after use.
CONDITIONS
1, Direct debit Period is 6 or 12 months, then transferred subscription to current contracts. For Direct Debit Mandate required a Swedish personal and Swedish personal bank account. The billing is done on the 27th of each month. Is this a holiday, takes charge next banking day before.Entry fee: At the time of enrollment in the reception paid days before the first charge in advance at the reception. Start: 1-15 th of the month due for the remaining days of the month in advance. Start: 16-31 th month paid the remaining days of the month + next month in advance. 2, Membership fee is a mandatory fee for exercising members to the association Vugi and an optional fee for the only members of the association. The fee is paid once / year of operation and the period for the fiscal year is from July 1 of the 30th of June. The membership fee is paid at the reception. 3, Change of subscription can only occur when upgrading the training card. Upgrading direct debit subscription with more activities can take place during the period. Switching to a subscription with a lower cost can only take place after the bonding time. Switch between the 1-19 th of the month changed the subscription immediately but is it changed between the 20-31 th of the month then the rate changed the following month. Changing the subscription takes place at the reception. 4, Termination Direct debit subscription can be terminated after the period. Direct debit subscription does a certain period and then a current agreement. Termination 1-19 th terminated with one month's notice. 20-31 th ends on the last day of the following month. Dismissal is at the reception. 5, Transfer of a One year subscription prepaid card or direct debit subscription can be done to another person. This takes place at the reception and both current member and the new member must come to the reception. For the transfer will be an administrative charge of 200 SEK and the new member shall pay a new membership to the Association and deposit for entrance chip. 6, Doping Controls. Vugi is included in Swedish Sports Confederation, which has the right to conduct regular doping controls. 7, Return of entry chip can be made within 30 days after the expiry date. Payment is made only to the owner of the entry chip. 8,Freezing your training card can be done by direct debit subscriptions and season tickets and stand still period can be up to six months. Administrative costs 200kr (except for injury / illness / pregnancy medical certificate). If this happens during the period, the end date of the period postponed same length as freezing. Freezing takes place at the reception.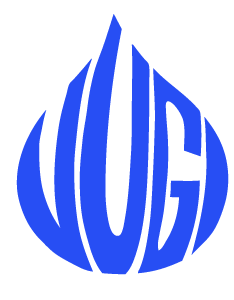 VUGI is a non-profit sports association that was created in 1968 when the university came to Växjö from Lund. The association's activities has varied over the years and also been in various locations in Växjö, but since 1997, located in the house J, Olympen, at campus.
VUGI developed its activities significantly when Olympen Träningscenter opened September 1, 2010. The range of exercise classes in ball sports, group training and a gym and even increased the number of members from 500 to a maximum of 2500 people. In 2011, acclaimed SAIF (Swedish University Sports Federation) association's work and appointed VUGI nationally for "Best association".
VUGI has about 60 employees who are involved in committees and sections for gym, group training, ball sports and adventure. The board's leadership and elected representatives of VUGI members. VUGI is a member association of the SAIF (Swedish University Sports Federation) and is subject to the Swedish Sports Confederation statutes. VUGI has always offered sports, but also has a long racing history, primarily in ball sports. The association has been represented by athletes in several series and Student Championships with fine performances. Between 2015 and 2016, is VUGI the organizer of the Student Championships, "Studentiaden" in five different sports.
Are you involved in Vugi? There are many interesting projects of the association of various kinds. Please contact us!
OFFICE:
verksamhet@vugi.nu
RECEPTION:
0470-824 00
olympen@vugi.nu
RECEPTION
Monday-Friday 12.00-19.00
ADDRESS
Slottsallén 23
352 52 Växjö, Sweden
CONTACT
+46(0)470-824 00
olympen@vugi.nu